Honeycomb
Jimmie Rodgers
23 hours ago
Chain Gang
Sam Cooke
23 hours ago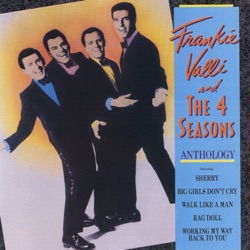 Ronnie
Frankie Valli & The Four Seasons
23 hours ago
LIGHTNING STRIKES
Lou Christie
23 hours ago
Popsicles & Icicles
The Murmaids
23 hours ago
I'm a Believer (2006 Remastered Original Stereo Version)
The Monkees
23 hours ago
If You Don't Know Me by Now (Re-Recorded Version)
Harold Melvin & The Blue Notes
23 hours ago
California Girls
The Beach Boys
23 hours ago
Are You Lonesome Tonight?
Elvis Presley
23 hours ago
Last Chance to Turn Around
Gene Pitney
23 hours ago
View more
Oldies America - live
Greatest Hits from the 50s, 60s and 70s
Oldies America is an online radio station part of Wally J Radio Network that specializes in the greatest hits from the 50s, 60s and 70s. The station live streams 24/7 from its studios in Cincinnati, Ohio, a mix of oldies that rarely or never make it into traditional radio's programming with thematic live shows.
Popular shows and hosts/DJs
Attic of Hits with Pete D
Relics & Rarities with Dave the Rave
The Dusty Rhodes Radio Show
The Doowop Stop with Cool Bobby B
UK & USA - Rock n Soul Connection
Categories:&nbsp
Oldies, 60s, 70s
Frequencies Oldies America
Cincinnati: Online
Schedule
| Time | Program |
| --- | --- |
| midnight - 6 a.m. | The Greatest Hits of the 50's, 60's & 70's All Night Long |
| noon - 1 p.m. | Daily Beatle Break then An Hour of Great 50s/60s Hits |
| 7 p.m. - 8 p.m. | Daily Beatle Break then An Hour of Great 50s/60s Hits |
| 8 p.m. - 9 p.m. | Saving the 70s - With Mike Walker |
| 9 p.m. - 10 p.m. | Pete D's Attic Of Hits |
| 10 p.m. - 11 p.m. | Pete D's Soulful Sounds |
| Time | Program |
| --- | --- |
| midnight - 6 a.m. | The Greatest Hits of the 50's, 60's & 70's All Night Long |
| noon - 1 p.m. | Daily Beatle Break then An Hour of Great 50s/60s Hits |
| 6 p.m. - 7 p.m. | Taking'Ya Back the 60s - With Kurt David |
| 7 p.m. - 9 p.m. | Daily Beatle Break then UK USA Rock a Soul Connection |
| 9 p.m. - 10 p.m. | Taking'Ya Back the 70s - With Kurt David |
| Time | Program |
| --- | --- |
| midnight - 6 a.m. | The Greatest Hits of the 50's, 60's & 70's All Night Long |
| noon - 1 p.m. | Daily Beatle Break then An Hour of Great 50s/60s Hits |
| 6 p.m. - 7 p.m. | Matt the Cat's Juke in the Back |
| 7 p.m. - 10 p.m. | Daily Beatle Break then The DooWop Stop (On the Fly Repeat) - With Cool Bobby B |
| 10 p.m. - 11 p.m. | Dave the Rave's Relics & Rarities |
| 11 p.m. - midnight | The Date - With Diane Show |
| Time | Program |
| --- | --- |
| midnight - 6 a.m. | The Greatest Hits of the 50's, 60's & 70's All Night Long |
| noon - 1 p.m. | Daily Beatle Break then An Hour of Great 50s/60s Hits |
| 7 p.m. - 8 p.m. | Daily Beatle Break then An Hour of Great 50s/60s Hits |
| 8 p.m. - 9 p.m. | Pete D's Attic Of Hits |
| 9 p.m. - 10 p.m. | Pete D's Soulful Sounds |
| Time | Program |
| --- | --- |
| midnight - 6 a.m. | The Greatest Hits of the 50's, 60's & 70's All Night Long |
| noon - 1 p.m. | Daily Beatle Break then An Hour of Great 50s/60s Hits |
| 7 p.m. - 10 p.m. | Daily Beatle Break then The DooWop Stop (New Show) - With Cool Bobby B |
| 10 p.m. - 11 p.m. | Saving the 70s - With Mike Walker |
| 11 p.m. - midnight | The Date - With Diane Show |
| Time | Program |
| --- | --- |
| midnight - 6 a.m. | The Greatest Hits of the 50's, 60's & 70's All Night Long |
| 9 a.m. - noon | Greatest Hits USA - Playing America's Favorites |
| noon - 2 p.m. | The Dance Party - With Stu Jones |
| 2 p.m. - 4 p.m. | UK USA Rock a Soul Connection |
| 4 p.m. - 5 p.m. | Dave the Rave's Relics & Rarities |
| 5 p.m. - 6 p.m. | Taking'Ya Back the 70s - With Kurt David |
| 7 p.m. - 10 p.m. | The DooWop Stop - Encore Presentation (NEW SHOW) - With Cool Bobby B |
| Time | Program |
| --- | --- |
| midnight - 6 a.m. | The Greatest Hits of the 50's, 60's & 70's All Night Long |
| 9 a.m. - 11 a.m. | The Dance Party - With Stu Jones |
| 11 a.m. - noon | Pete D's Attic Of Hits |
| noon - 1 p.m. | Matt the Cat's Juke in the Back |
| 1 p.m. - 2 p.m. | Dave the Rave's Relics & Rarities |
| 2 p.m. - 3 p.m. | Pete D's Soulful Sounds |
| 3 p.m. - 6 p.m. | Greatest Hits USA - Playing America's Favorites |
| 6 p.m. - midnight | The Dusty Rhodes Radio Show |
Top Songs
Last 7 days:
1. Climax - Precious & Few
2. Johnny Nash - I Can See Clearly Now
3. The Foundations - Baby, Now That I Found You
4. The Ventures - Walk, Don't Run '64
5. Tommy James & The Shondells - Mony Mony
6. Dobie Gray - Drift Away
7. Buffalo Springfield - For What It's Worth
8. Steam - Na Na Hey Hey Kiss Him Goodbye
9. The Guess Who - These Eyes
10. B.J. Thomas - Hooked on a Feeling
Last 30 days:
1. Dobie Gray - Drift Away
2. GARY PUCKETT AND THE UNION GAP - Young Girl
3. Gary Puckett & The Union Gap - Woman, Woman
4. Tommy James & The Shondells - Mony Mony
5. Climax - Precious & Few
6. Steam - Na Na Hey Hey Kiss Him Goodbye
7. Billy Joe Royal - Down the Boondocks
8. The Foundations - Baby, Now That I Found You
9. Gary Puckett & The Union Gap - Lady Willpower
10. The Left Banke - Walk Away Renee
Contacts
Website:&nbsp
www.oldiesamerica.net/
Address:&nbspDelhi Township, Cincinnati, Hamilton County, Ohio USA
Telephone:&nbsp(513) 898-9069
E-mail:&nbspWallyJ@WallyJ.com
Social networks
Share
Comments