Leather Jacket
Arkells
23 hours ago
Gotta Get Away
The Offspring
23 hours ago
Hello, I Love You (2006 Remastered)
The Doors
23 hours ago
New Girl Now
Honeymoon Suite
23 hours ago
Losing My Religion
R.E.M.
23 hours ago
One Way or Another (24-Bit Digitally Remastered 2001)
Blondie
23 hours ago
The Weight
The Band
23 hours ago
In Bloom
Nirvana
23 hours ago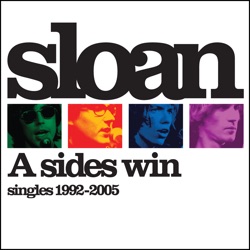 Money City Maniacs
Sloan
23 hours ago
Looking Ahead
Zak Alan McNeil
23 hours ago
View more
CILQ Q107 FM - live
Toronto's rock station!
CILQ-FM also known as Q107 is a Canadian radio station based in Toronto, Ontario. Q107 broadcasts an active rock format at 107.1 FM and is also available through streaming audio and on Bell TV channel 954. This station is owned by Corus Entertainment. Its transmitter is located atop the CN Tower, with backup facilities located atop First Canadian Place.
Q107 was aired for the first time on May 22, 1977 and the first song it played was "Hard Rock Town" by Murray McLauchlan. Altough the station declares itself as having a mainstream rock format since 1996, it reconverted to a classic rock format on 2000 and on 2014 it switched back to a mainstream rock format. Since 2015, Q107 has been adding more pop music to their playlist and despite classic rock still makes a good portion of their playlist, the station feels more like a classic hits station.
Categories:&nbsp
Rock, Classic Rock
Frequencies CILQ Q107 FM
Toronto: 107.1 FM
Schedule
| Time | Program |
| --- | --- |
| 6 a.m. - 10 a.m. | Derringer In The Morning - With Jennifer Valentyne |
| 10 a.m. - 2 p.m. | Joanne Wilder |
| 2 p.m. - 7 p.m. | Fearless Fred |
| 7 p.m. - 11 p.m. | Dan Chen |
| Time | Program |
| --- | --- |
| 6 a.m. - 10 a.m. | Derringer In The Morning - With Jennifer Valentyne |
| 10 a.m. - 2 p.m. | Joanne Wilder |
| 2 p.m. - 7 p.m. | Fearless Fred |
| 7 p.m. - 11 p.m. | Dan Chen |
| Time | Program |
| --- | --- |
| 6 a.m. - 10 a.m. | Derringer In The Morning - With Jennifer Valentyne |
| 10 a.m. - 2 p.m. | Joanne Wilder |
| 2 p.m. - 7 p.m. | Fearless Fred |
| Time | Program |
| --- | --- |
| 6 a.m. - 10 a.m. | Derringer In The Morning - With Jennifer Valentyne |
| 10 a.m. - 2 p.m. | Joanne Wilder |
| 2 p.m. - 7 p.m. | Fearless Fred |
| Time | Program |
| --- | --- |
| 6 a.m. - 10 a.m. | Derringer In The Morning - With Jennifer Valentyne |
| 10 a.m. - 2 p.m. | Joanne Wilder |
| 2 p.m. - 7 p.m. | Fearless Fred |
| Time | Program |
| --- | --- |
| 6 a.m. - noon | Dan Chen |
| Time | Program |
| --- | --- |
| 6 a.m. - noon | Dan Chen |
| 9 p.m. - 10 p.m. | Records & Rockstars - With Jeff Woods |
Top Songs
Last 7 days:
1. Zak Alan McNeil - Looking Ahead
2. The Beatles - Drive My Car
3. The Beatles - Drive My Car
4. AC/DC - You Shook Me All Night Long
5. Elton John - Rocket Man (I Think It's Going to Be a Long Long Time)
6. Guns N' Roses - Sweet Child O' Mine
7. Billy Idol - Rebel Yell
8. Boston - More Than a Feeling
9. The Clash - London Calling
10. Dire Straits - Money for Nothing
Last 30 days:
1. Zak Alan McNeil - Looking Ahead
2. The Beatles - Drive My Car
3. The Beatles - Drive My Car
4. Warner/Chappell Productions - Big Time Smiles
5. The Clash - London Calling
6. Elton John - Rocket Man (I Think It's Going to Be a Long Long Time)
7. AC/DC - You Shook Me All Night Long
8. Steve Miller Band - Rock'n Me
9. Guns N' Roses - Sweet Child O' Mine
10. Loverboy - Working for the Weekend
Related Podcasts
Contacts
Website:&nbsp
www.q107.com/
Address:&nbsp25 Dockside Drive Toronto, Ontario M5A 0B5
Telephone:&nbsp416-479-7000
Social networks
Share
Comments