White Wedding
Billy Idol
23 hours ago
Meant to Be
City and Colour
23 hours ago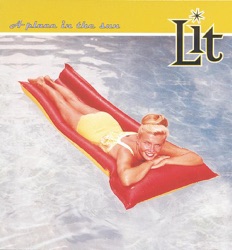 My Own Worst Enemy
Lit
23 hours ago
Past Life
Arkells
23 hours ago
What I've Done
LINKIN PARK
23 hours ago
So Called Life
Three Days Grace
23 hours ago
Friday I'm In Love
The Cure
23 hours ago
Pepper
Butthole Surfers
23 hours ago
Closer to the Sky
The Glorious Sons
23 hours ago
All Apologies
Nirvana
23 hours ago
View more
CKGE 94.9 The Rock - live
GTA's Rock Station
CKGE-FM, also known as 94.9 The Rock is a rock radio station airing from Toronto, Ontario.
If you're looking for good rock music, 94.9 The Rock is definitely a radio station to check it out.
On CKGE-FM you'll find everything rock, from mainstream to alternative and classic rock music.
Main Programs
Rock Mornings
Meital
5 O'Clock Quittin' Time Tune
90s at noon
The Rock's Generation Next
Rock 20 Countdown
Main DJs
Craig Venn
Lucky
Bob Willette
Doug Elliott
Lee Eckley
Brian Moncarz
Categories:&nbsp
Rock, Alternative Rock
Frequencies CKGE 94.9 The Rock
Oshawa: 94.9 FM
Top Songs
Last 7 days:
1. Beach Weather - Sex, Drugs, Etc.
2. Paramore - This Is Why
3. Glass Animals - Heat Waves
4. Red Hot Chili Peppers - Tippa My Tongue
5. Blink-182 - EDGING
6. LUX - Lux Aeterna
7. Gorillaz - Cracker Island (feat. Thundercat)
8. Mother Mother - Hayloft II
9. Billy Talent - End Of Me (feat. Rivers Cuomo)
10. Arkells - Past Life
Last 30 days:
1. Beach Weather - Sex, Drugs, Etc.
2. Gorillaz - Cracker Island (feat. Thundercat)
3. Blink-182 - EDGING
4. Red Hot Chili Peppers - Tippa My Tongue
5. Nickelback - San Quentin
6. Ozzy Osbourne - Patient Number 9 (feat. Jeff Beck)
7. Mother Mother - Hayloft II
8. Arkells - Past Life
9. The Beaches - Grow Up Tomorrow
10. Billy Talent - End Of Me (feat. Rivers Cuomo)
Contacts
Address:&nbsp
1200 Airport Blvd, #207 Oshawa, Ontario L1J 8P5
Telephone:&nbsp
905.571.0949
E-mail:&nbsp
steve@kx96.fm
Social networks
Share
Comments